BETTY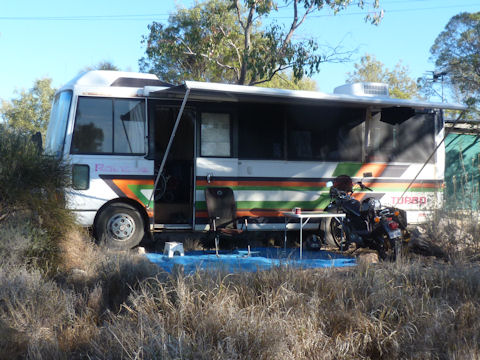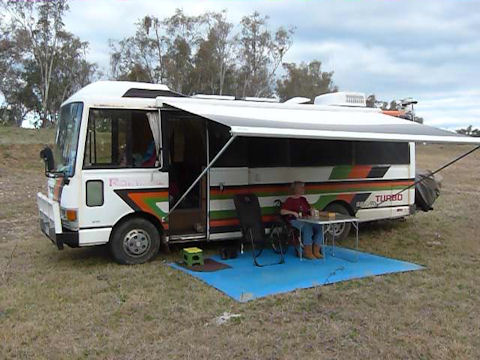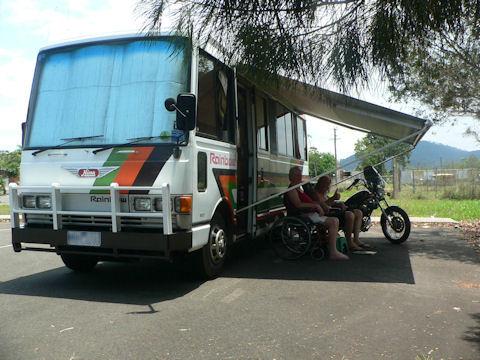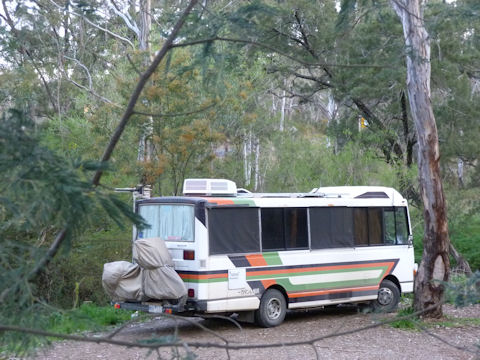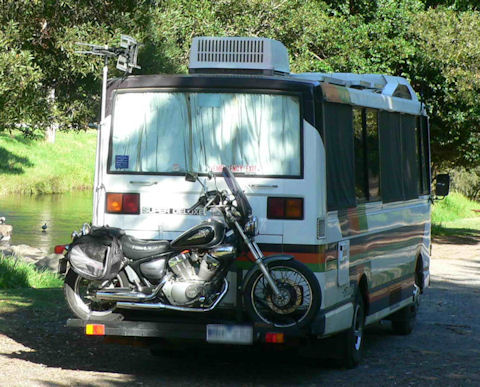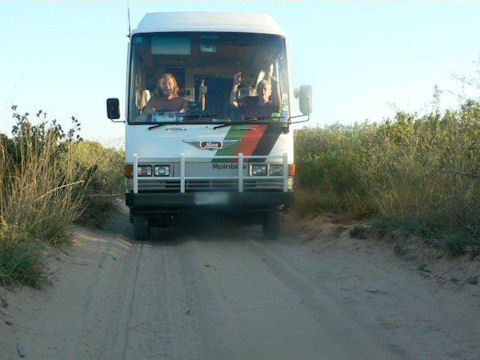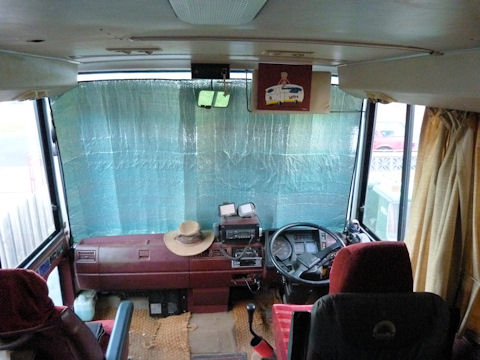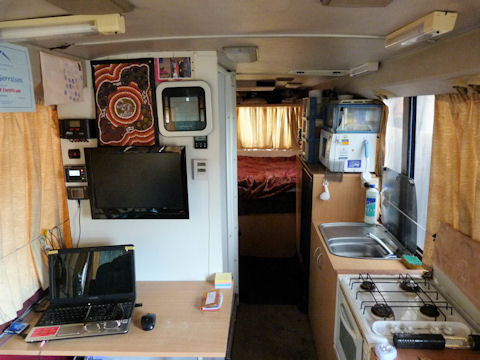 Hino 1987 Rainbow RB145A
GVM 6000 kg - light truck license required
4 cylinder diesel 3.8 litre turbo rear mounted
Transmission : Manual 5 speed
7 m long and 2 m wide
Diesel 100 litres
Service every 10,000 km, grease every 5,000 km (6 nipples)

6.5 - 8.0 km/litre; 7.0-7.5 average expected dependent on driving speed and conditions
An additional leaf has been added to each spring set to ensure a good ride and increased ground clearance, and Power Built dampers

Betty is an A class motorhome, a very sturdy vehicle and will go further than you are prepared to take it - so no worries. It is in good mechanical condition and clean and tidy, and is designed for extended living, you will find no better equipped unit for long term survival on or off the road

At the rear there is an engineer designed and built motorcycle frame and towbar.
Seriously, it is the sturdiest and easiest system ever seen.
The motorcycle is a 1998 Yamaha Virago XV250
As the pic shows, it has a wind shield and two saddle bags and comes with two helmets, slightly differing sizes, one for him and one for her.
A very reliable and economical vehicle, not too heavy but big enough to travel to town for provision when camping in the bush, or on the edge of town.

Heater cabin from engine
Heater cabin Dometic Airtronic D2 diesel 2.2 kW digital controller
Air conditioner cabin from engine
Air conditioner Dometic 240 volt 3.245 kW cooling (1.3 kW electric) / 1.64 kW electric element heater, can be run off generator

UHF CB GME Electrophone TX4400 transceiver 40 channel
AM / FM / MP3 / CD Clarion DB356MP stereo multi speaker radio
TV antenna Phaselink PL30 electronic with inbuilt signal booster
TV Palsonic HD / DVD / AV / VGA / USB / SD/MS/MMC card port auto TV search
CD's and DVD's available
8GB per month internet - you need your own computer

Bus batteries 2x N100 Century
Bus battery charger 240/24 volt Projecta Logix smart multi stage
Inverter Sinergex PureWatts PW-1500/24 24/240 1500 Watt - not used

House batteries 4x D87L - 480 Ahr
House batteries charger Projecta IC5000 7 stage 50Amp
400 Watts (35 Amp) Solar Panels - Steca 30 Amp controller
Inverter Marc@Ting pure sine 2000W-4000W / 12V-240V with remote control
Inverter Human Power i-500M Inverter 500W not used

Reversing camera and display SB-35 (day light / night Infrared)
Navman EZY100T GPS

Water storage, clean 185 litre;
Water hose 2 x 15m / w fittings / Water filter if required
Water pump Flowjet Quiet Quad Auto
Water storage, grey = 50 litre, Dump hose 5m
Lights – 3 x 24 volt fluorescent lights, 4 x 12 volt F8T5/D twin fluorescent lights
Fridge Tundra T32AC04 12/24 Volt 3.20 cu ft / 90 litre
Stove Smev 4 burner / griller / oven
Microwave LG Intelwave auto
Thetford Porta Potti 365 15/21 Litre - Biomagic used so can empty at any toilet
Shower Flair Fibreglass full size; Interbath eco showerhead
LPG supply 8.5 kg Swap (9.0 kg)
Hot water Atwood gas heater 23.5 litre
Roof Vent Fantastic 6000RBT - Auto 3 speed Thermostatic / Rev / Rain Sensor

Pantry and ample storage

Double bed 1830x1290 mm mattress
Mosquito net but not needed

Fire extinguishers Chubb Quell 2 x 1 kg 20B:E
Vacuum cleaner and cleaning items
Screens inside; sun cabin solar and home curtains
Screens outside; fly / mosquito
Wardrobe full size

Awning Omnistor 5500 4.5m
Spinifex Nomad Chairs x 2, outdoor table

Tools for wheel change

Leave No Trace certified

This is a fully self contained motorhome and permanent free camping is possible.
It is the smallest bus with a rear engine, and is as quiet as a Lexus !
And it is solid, go anywhere, to give you an idea, it is the same size as a long wheelbase Coaster, but weighs two tonnes more, and is actually more economical.
The engine is reputed as one of the best small four cylinder diesels ever made by Japan, and is good for 600,000 km before it needs an overhaul, and I am told by a mechanic who services fleets of RB145's, that all that is often required at this time is a valve gap reset and replacement fuel injectors. As is usual, regular servicing is the key to longevity.

Thanks Ron for the info.
---
Also Quicksilver MXIIA Ultralight Plane - now this is fun !
Trailered, easily towed, an excellent condition low houred example and very easy and very safe to fly.
This plane is as new, with latest engine, spares, tools and everything set to go, and where to learn to fly if needed, flying instruction, airfield info, books, manuals, and all the info and hangerage you would ever require, etc.
Comes with / on a good trailer

Great value at $12,000
If you can drive, you can fly